Use our thorough list of paint finishing equipment manufacturers and suppliers in Alabama to examine and sort top paint finishing equipment manufacturers with previews of ads and detailed descriptions of each product. Any paint finishing equipment manufacturers can provide paint finishing equipment products and services to meet your companies specific qualifications. An easy connection to reach paint finishing equipment manufacturers through our fast request for quote form is provided as well. This source is right for you whether it's for dryers, coating system, industrial channel or any other painting needs.
Birmingham, AL
|
800-682-4165
F&S Surface Solutions, Inc. represents the industries best and world-class manufacturers in industry. We offer: spray finishing equipment, advanced paint circulation systems, fluid handling, dispensing, and metering equipment, sealant and adhesive application equipment, lubrication equipment, and air-filtration products that meet or exceed the industry standards in the markets that we serve.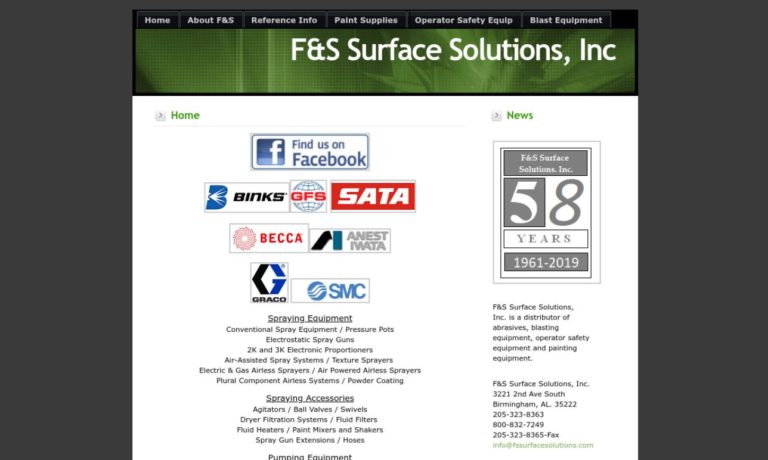 $$$
Companies Serving Near Alabama
Lawrenceville, GA
|
866-510-9759
Barton Associates, Inc is an American-owned company with over 40 years of experience as a painting systems integrator. We strive to provide our customers with a wide range of quality products and equipment from many well-known manufacturers in order to make each quote request uniquely tailored to your company's needs and specifications.
$$$
Atlanta, GA
|
800-241-2178
Obtaining top-notch paint finishing equipment, finishing systems, paint sprayers, spray booths, filters and other related items is one of the things Southern Fluid Systems does. Fluid- and air-handling equipment are our specialty. In business since 1971, we also have knowledge of government regulations.
$$$