Use our thorough list of paint finishing equipment manufacturers and suppliers in New Mexico to examine and sort top paint finishing equipment manufacturers with previews of ads and detailed descriptions of each product. Any paint finishing equipment manufacturers can provide paint finishing equipment products and services to meet your companies specific qualifications. An easy connection to reach paint finishing equipment manufacturers through our fast request for quote form is provided as well. This source is right for you whether it's for dryers, coating system, industrial channel or any other painting needs.
Leading Paint Finishing Equipment Manufacturers
Companies Serving Near New Mexico
Salina, KS
|
785-309-0356
Introducing IntelliFinishing, a paint finishing system unlike anything you have ever seen. Our systems are flexible, scalable, smart and efficient with quality that can't be beat. Our patented systems include: conveyance, washers, ovens, controls, coating systems, platforms, etc. Visit our website to learn more, or give us a call today! Learn more about the last finishing system you'll ever...
$$$
St. Louis, MO
|
800-365-7565
Since 1966, Fluid-Air Products has been supplying the paint finishing equipment of leading-edge manufacturers. We offer spray booths, spray guns, electrostatic sprayers, paint sprayers, spray painting robots, filters, paint arrestors, airbrush equipment and more in the line of paint spraying equipment.
$$$
Rockwell, TX
|
888-452-6684
RTT Engineered Solutions designs cutting-edge paint booths, powder booths, ovens, air makeup units, and preparation equipment for paint finishing applications. We maintain loyal customer relationships with excellent services, such as installation, training, and maintenance.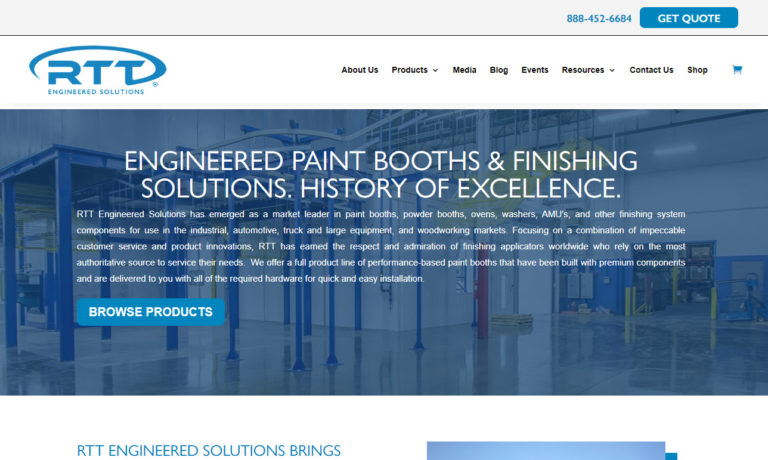 $$$