Use our thorough list of paint finishing equipment manufacturers and suppliers in Pennsylvania to examine and sort top paint finishing equipment manufacturers with previews of ads and detailed descriptions of each product. Any paint finishing equipment manufacturers can provide paint finishing equipment products and services to meet your companies specific qualifications. An easy connection to reach paint finishing equipment manufacturers through our fast request for quote form is provided as well. This source is right for you whether it's for dryers, coating system, industrial channel or any other painting needs.
York, PA
|
800-582-3693
Finishing Systems sells finishing equipment, deburring machines, air blasting, wheel blasting and foundry blasting. We have been in the in business for over 40 years as a job shop and a distributor of finishing and deburring machinery. We offer the services of deburring, descaling, cleaning, surface etching, parts drying, burnishing/polishing, and so much more. Our Industrial Washer Systems can be manufactured to fit your needs; i.e. corrosion protection, chemical cleaning, and spray or immersion washing. For more information stop by our site today!
$$$
East Earl, PA
|
800-638-4410
Grapek Company was started in 1923 in Newark, N.J. Originally dedicated to the supply of spray equipment to industry, Grapek has expanded over the years to handle a wide range of finishing equipment for all applications as well as a variety of fluid handling pumps and controls including chemical and sanitary applications, spray booths, dust collection systems, ovens and filters.
$$$
Lancaster, PA
|
800-700-4377
HERR Industrial, a national leader, has been solving tough finishing problems for more than thirty years with our innovative, reliable, affordable paint finishing systems. We offer turnkey services for powder, electrocoat and liquid spray/dip processes on metal, wood and plastic. HERR equals reliability, affordability and value, worldwide. We are committed to quality and customer service above all else. Call or visit us online today. We look forward to working with you soon!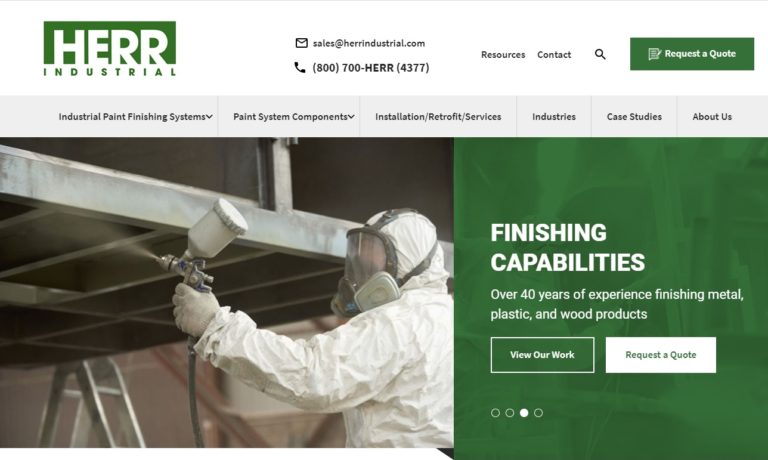 $$$